"10 SKILLS TO SCALE- Modeling Success As A Brand Ambassador"
Empower Your Brand Ambassador Journey with Our E-Book
In the eBook "10 SKILLS TO SCALE," industry mogul Rian Donatelli provides the 10 critical skills you must develop to achieve Brand Ambassador mastery.
Get My E-Book Now for only $17
'10 Skills to Scale - Modeling Success As A Brand Ambassador,'
is your ultimate guide to conquering the Brand Ambassador industry
This E-Book is filled with practical insights, expert tips, and real-life success stories. You'll learn how to grow and scale your career, stand out from the competition, and secure more bookings.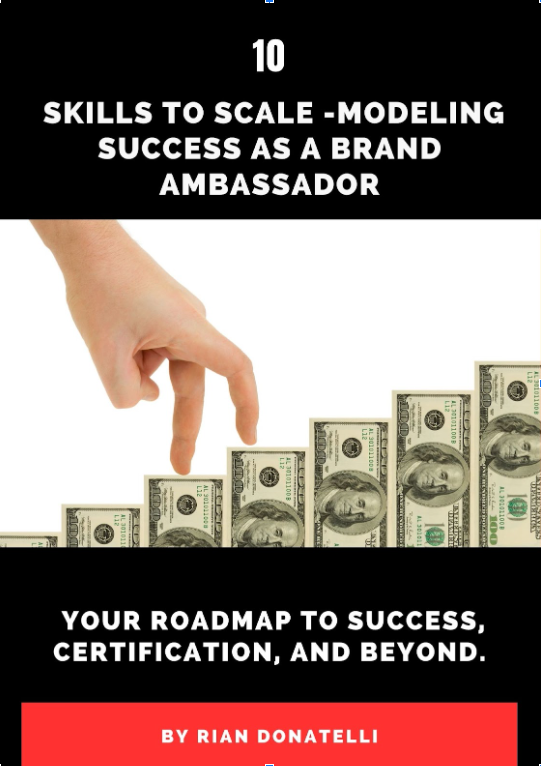 Get instant access to '10 Skills to Scale' and take the first step towards a thriving career in brand ambassadorship!
Embark on a transformative journey with industry mogul Rian Donatelli's eBook, "10 SKILLS TO SCALE." Uncover the secrets to becoming a masterful Brand Ambassador as Rian shares invaluable insights gained from over 25 years in the industry. This comprehensive guide provides a roadmap for success, covering fundamental principles, certification, mindset alignment, role execution, data utilization, the 360 approach, and securing consistent bookings. Learn strategies to avoid pitfalls, craft an exceptional resume, create unforgettable brand experiences, excel in interviews, understand consumer behavior, and master the art of detailed recaps.
Elevate your brand ambassador journey with the 10 essential skills outlined in this empowering eBook.
You will discover the secrets to elevating your Brand Ambassador career. You'll gain the knowledge, skills, and mindset needed to become a sought-after professional in the industry.
Get My E-Book for $17, and Start Your Journey to Success Today